Home l About l Musicians l Play Tracks l PressPack l Bits/Pieces l musicnow
Liquid Metal Dreaming
released April 2008
Quiet, calming sound, based entirely on the open strings and natural harmonics of the instruments. A different listening experience. Engage the mind with filmic and narrative images and relax the body. The crwth mixes with the freeform double bass producing a gentle stream of organic music, ethereal, familiar or challenging.
put the glasses on
stand and stare . . . into the sound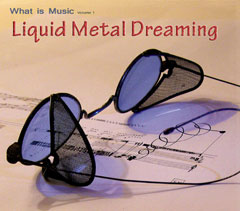 £10.00 + postage
The harmonic series is produced by continually subdividing the string or tube into equal vibrating lengths. Using the harmonic series, nature's musical building blocks, What is Music makes pieces that express emotions and connect with the reality of our own time.

A tribute to steelworkers, miners and other communities engaged in production that built modern society, they make the world go round!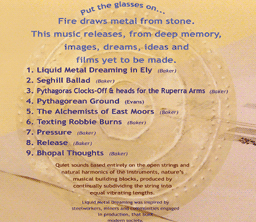 Liquid Metal Dreaming in Ely (Baker) 6.42
Seghill Ballad - (Baker) 3.22
Pythagoras Clocks Off and heads for the Ruperra Arms (Baker) 6.48
Pythagorean Ground (Evans) 5.29
The Alchemists of East Moors (Baker) 3.45
Texting Robbie Burns (Baker) 4.00
Pressure(Baker) 15.42
Release (Baker) 3.48
Bhopal Thoughts (Baker)18.59
Robert Evans
crwth, Indian tambura, lyre, fiddle, voice
Laurie Scott Baker
double bass, electric upright bass, electronics, percussion
More information and tracks at myspace
Contact: postroom at musicnow co uk
Home l About l Musicians l Play Tracks l PressPack l Bits/Pieces l musicnow
---
Page maintained by Brigid Scott Baker,
Copyright© 2008-9 MUSICNOW. Created: 12/02/2008
wim/index.html