Born at a very early age in Brummidge, where he spent his formative years playing piano and bass in a number of obscure and very wierd rock bands. He also spent a lot of time being stopped by the police.

Qualifications: Second rate degree from a "not even a university". Pretentious higher degree in eating Greek food and talking bollox from a university in a not very nice part of London. Ability to jump up and down whilst shaking an egg in one hand and going "one, two, rang a dang dang" at the same time.

Prizes/Broadcasts: Alice Lisle; her Pavane [Smash the Fascist State, you buggers]; did not win the Well, Well Cornelius Prize - continue
not very serious

although he [Martin, not Cornelius] had a very nice day, but didn't get to go to The Ritz. There is no rose; was not broadcast by Radio 2 on Christmas Eve even though it was recorded - too 'uncompromisingly modern' for the delicate ears of the Radio 2 listener.

Hobbies: Spending many a long hour applying for grants/collecting rejection slips; being stopped by the police; Italian food & wine, French food & wine, English pubs, cycling with his family and watching football !!

but seriously.......
a little more seriously!

MARTIN READ was born in Birmingham, studying music at Colchester Institute and Goldsmiths College, London University, where he completed his M.Mus in composition. In 1988 he was admitted as a Fellow of Trinity College of Music, London.

Martin's music has been performed by numerous ensembles and choirs, and has been featured at many festivals - including Southern Cathedrals, Sounds New, Malvern, Farnham, and the Huddersfield Contemporary Music Festival.

His music has also been performed throughout Europe: recently The Angel of History was recorded at the Radio Cafe in Vienna for broadcast by ORF [Austrian Radio], whilst The Numbers Game was performed at the Conservatoire in Rouen.

In May 1999, Martin was appointed as millennium composer to the Hampshire Music 2000 project, a position that required him to write for a large number of Hampshire's county, area and school ensembles, and which in November culminated in him conducting nearly 700 performers in his Mary Rose at the Schools' Prom in The Royal Albert Hall.
continue

However, his music is not exclusively performed in Hampshire: in February 2001 A Survivor from the Cinema was commissioned and premiered by the Composers' Orchestral Project at the Royal Academy of Music, in March dialogues and diatribes was commissioned and premiered at the Farnham Festival, whilst in June when she came misty through the morning was premiered at the Bath Festival.

More recently Martin finished dance to the end of time www.danceto.com - a chamber opera - for which he received a grant from Southern Arts, and which was toured during the summer of 2002.

His music is published by Banks, Editions a Coeur Joie, and Noteworks Publications.
Selected Works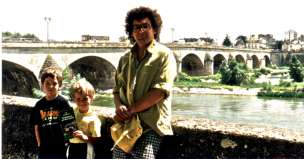 Martin with Simon and Matthew